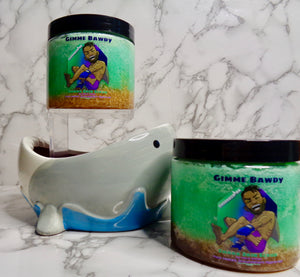 Groundshark Skin Scrub
16 oz
PET Jar
Score smooth skin with Gimme Bawdy Butter UNISEX sugar scrub. The scent of Shark Skin Scrub is clean and fresh like an ocean breeze.  Shark Skin scrub gently exfoliates your skin while leaving it super soft.
HOW TO USE:
Stir the scrub using the provided spatula, scoop out enough product to fill the center of the palm of your hand. Massage the sugar scrub onto your skin in gentle circular motions.  You don't want to press too hard, as you could irritate your skin.  Use 2 times per week for optimum results.
The scrub is not intended for use on the face.